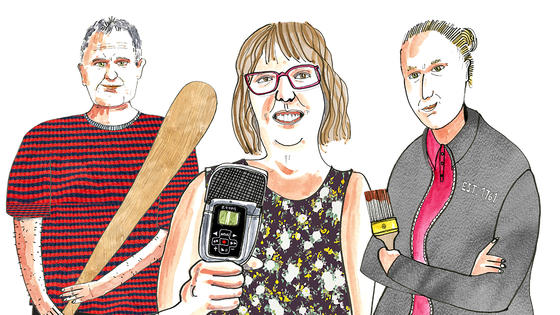 Est.1761 has been around since 2014. 
We have 2 main aims – to reinvigorate the Bridgewater Canal and the green spaces around it, and to celebrate its momentous heritage.  To achieve this there has been the transformations of Worsley Delph and Barton Stone Aqueduct, new seating, information panels, story-telling art works… and a monumental effort by volunteers with over 11,000 hours spent on clean ups, path building, orchard planting, researching, fence painting, creating heritage trails, pond dredging, knitting giant art installations, recording stories, boat building… 
Over 700 people have freely given their time and enthusiasm to making the Bridgewater Canal a better place to live and work. To celebrate this we wanted to create something that reflected and expressed the passion that has led so many to put on their wellies, pick up their hammers, needles, pens and paper.
We asked Manchester-based writer and sketcher, Len Grant to meet some of the volunteers and create a piece of work that would serve as a testament to this part of the canal's heritage.  Len chatted, sketched and wrote their stories, making this wonderful booklet that is as vibrant as the people it portrays.  
We would like to thank everyone who has volunteered with us - you really have made a difference. 
View Stories from The Bridgewater Volunteers here:
https://indd.adobe.com/view/b9b4ad10-9455-4f53-8ac2-0aa6510fa356