Although there are few detailed accounts, there is one specific moment that Sally wanted to highlight as she felt it is representative of the unrealistic sanctions and expectations placed onto women.
There was an occasion of a female worker passing by the Duke of Bridgewater on the bridge in the Delph at Worsley. Some of the fluff from her dress transferred onto the Duke's clothing as they passed (she must have been working with cotton on the industrial yard) from which he then banned all women from using the bridge.
Extract from "Folk Tales" by C Elsie Mullineux 
Collaborating with Eva Elliot, she and Sally have created a collection of porcelain jewellery which references this moment - the infliction of power - over gender and class - for something so menial. Sally has created surface print designs from fluff and screen printed designs which have been transferred onto porcelain and fabric. Some of the porcelain also has fluff imprinted into the surface to create textures and pattern. This detailing along with the shapes of the pieces reflects the movement and fluidity of the canal and waterways. The fabric has been made into a selection of products for this commission.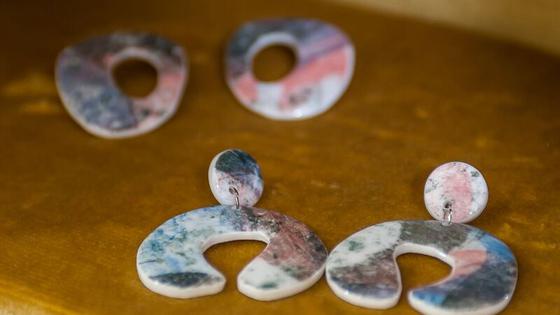 Eva Elliot Eva is a qualified art & design teacher and designer of minimalist, graphic porcelain jewellery. Her jewellery line 'margo' allows her to explore surface pattern such as terrazzo, oxide resists and marbling on her creations. She runs a wide range of workshops for both adults and children in ceramics, from decorative wall hangings, ancient style pinch pottery, to nerikomi porcelain jewellery. She is a member of 7 Spot Pottery, an open access ceramics studio based within Islington Mill. For this commission, Eva worked with Sally to create a range of porcelain Jewellery. @_____margo_