Pit Brow Lasses were women that worked in the mines until 1842 when they were forbidden by law to go underground, but could be employed in equally heavy industry on the pit face such as loading wagons, sorting coal on conveyor belts and hauling heavy tubs up from the mine.
These women were considered the first women to wear trousers, which was the source of huge controversy. In addition to trousers they also wore harness-style belts with chains so they were able to pull coal carts. These belts wore holes into their clothing and the women were often demonised for their appearance.
Sally has collaborated with Julia Roy-Williams to create a range of silver jewellery to explore the symbolism of the belt fastenings – something which illustrates the expectation of how women are expected to behave and look versus how in reality they needed to possess strength and resilience. The materials and processes they have used to create the jewellery also reflect the industrial making on the canal. Their work also features hidden messages and acid-etched surface pattern taken from Sally's screen prints of Jennifer Reid's vocals.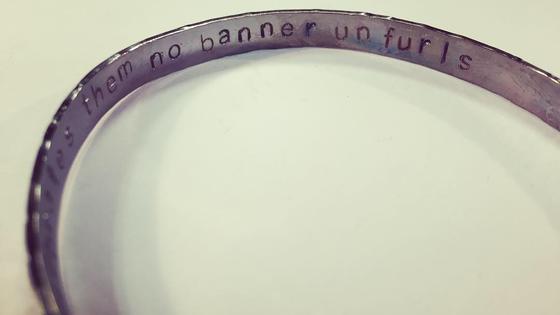 Julia Roy-Williams Julia Roy-Williams is a Manchester based artist, jewellery designer and facilitator. She is based in the Salford Maker studio at Islington Mill and co-runs studio 9 at Manchester Craft and Design Centre. Julia has a multi disciplinary approach, utilising digital design, laser cutting and contemporary craft skills in her practice. She has worked as a creative practitioner in Manchester for over 10 years, creating participatory events, workshops, and running creative studio and retail spaces. Her art jewellery brand WONDERHAUS is sold in shops and galleries worldwide. Julia also works as a lecturer and specialist technician at The Manchester College, enabling learning using digital design as a tool for creativity. wonderhaus.co.uk / @wonderhaus_uk