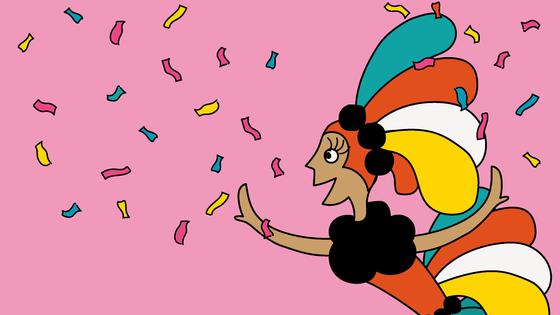 Friday, July 5, 2019 - 20:00

to

Sunday, July 7, 2019 - 17:00
Precarious Carnaval
By Lowri Evans, Renato Bolelli Rebouças & Rodolfo Amorim
One canal. Three days. Five miles. What could possibly go wrong?
Celebrating the Bridgewater Canal's 258th birthday, Precarious Carnaval invites audiences on a walking adventure from 1761 to 2061 with performance, parties and personal stories.
Last year, award-winning theatre makers from Brazil and the UK spent a month living along the Bridgewater Canal, getting to know the waterway and the people that use it. During their time they fished for stories, made costumes, took portraits of the people they met, set up beaches on the canal banks and said hello to every person they passed.
They started scheming Precarious Carnaval which mixes Brazilian festival with a distinctly Salford feel, a weekend which will pull together hundreds of local people for a colourful celebration of community connected by one very special canal. It will be joyous and jagged, perfectly precarious as we wonder: where are we heading?
Throughout June, the Precarious Carnaval team have been working with performers, makers and shakers from across Salford, collaborating with over 30 community groups and hundreds of people to stage the event. 
Part-party, part-procession, part-performance extravaganza: Precarious Carnaval will be an unforgettable journey which will see a confetti of performances, roaming scenes and strange spectacles as well as sculptures, installations and street parties. From the past, present and future of England's first canal, Precarious Carnaval is divided into three epic acts that will tip the world on its head, taking audiences on a journey through time from 1761 to 2061 to make sense of now in 2019.
Expect riots, revolutions and a shower of colourful get-togethers in a carnaval where nothing is as it seems. 
The whole weekend is absolutely free.
Friday 5 July, 8pm-9pm
Sit out by the canal for a sunset floating procession on the water
Procession Schedule (approximate timings)
8.00pm: Flotilla sets off from Barton Aqueduct 
8.10pm: Flotilla passes Bridgewater Mill/Liverpool Road, Patricroft
8.20pm: Flotilla passes Monton Lighthouse
8.35pm: Flotilla passes Humpback Bridge, Worsley 
9.10pm: Flotilla arrives at Boothstown Marina
 
Saturday 6 July, 2pm-5pm*
Boothstown Marina (off Booths Hall Way) to Humpback Bridge, Worsley
Take yourself on an unforgettable journey along the canal bank. The walking adventure from Boothstown Marina to Worsley's Humpback Bridge will feature more than one big bang.
* The audience will depart in groups of 30 every ten-minutes from 2pm. The performance walk along the towpath will take roughly 1-hour. 
A free shuttle bus will operate from Worsley to Boothstown to help those needing to return to Boothstown Marina.
Sunday 7 July, 2pm-5pm* 
Patricroft Recreation Ground (off Edison Road) to the Lighthouse, Monton
Travel through time and along the towpath for a joyous grand finale.
* The audience will depart in groups of 30 every ten-minutes from 2pm. The performance walk along the towpath will take roughly 1-hour. 
A free shuttle bus will operate from Monton to Patricroft to help those needing to return to Patricroft.
There's lots of additional useful information here.  
THIS CARNAVAL WANTS YOU!
More Information
e: precariouscarnaval@gmail.com 
#PrecariousCarnaval
You can get a taste of what is to come here:
You can see what Lowri and Bolelli got up to on their residency here:
Precarious Carnaval has been made possible through support from Arts Council England, Heritage Lottery Fund, Salford City Council, Est. 1761, Community Fund, Bridgewater Canal Company, The Lowry, Superbia at Manchester Pride and Worsley Rotary Club.​