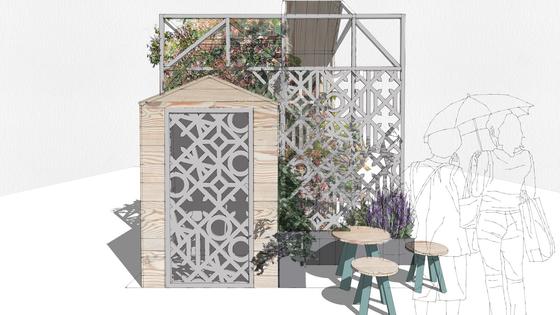 Wednesday, July 20, 2016 - 10:00

to

Sunday, July 24, 2016 - 17:00
Blooming Bridgewater is our horticultural celebration of the Bridgewater Canal in Salford – the first true canal in Britain. Blooming Bridgewater is part of the Garden Hideaway section at RHS Tatton Flower Show 2016.
Designer Tim Denton who specialises in creative pop ups has transformed a simple shed into a space inspired by the canal's transition from a catalyst for the Industrial Revolution to a haven for leisure, wellbeing and wildlife. The Blooming Bridgewater hideaway echoes visual elements found along the Bridgewater Canal, from the steel truss of the Barton Swing Aqueduct and the striking architectural style of the Packet House in Worsley, through to a range of subtle motifs found along the Salford stretch of the canal referencing small details from buildings and industrial heritage.
The design also features a child's swing which playfully references the unique swing aqueduct which carries the Bridgewater Canal over the Manchester Ship Canal at Barton. Inside a stove is the central feature as it would be on a traditional canal boat, surrounded by tools decorated in the Roses and Castles style and lace plates that feature drawings of locations along the canal and some of the people associated with its heritage. Plants soften the structure to reflect how nature has thrived in this once industrial landscape. The floor space is 3m x 3m and at its highest point the hideaway is just under 3.5m in height.
To date 14 local volunteers have given over 150 hours of their time working on the design and creation of the hideaway, learning traditional skills such as Roses and Castle style painting and growing plants in their own gardens as well as helping to install the exhibit at Tatton Park. Bridgewater volunteers play a huge part in helping to make the canal in Salford a better place having given over 3,500 hours of their time in the last two years to activities including planting trees, creating flower meadows, improving paths and building benches.