Many attempts to clear Worsley Delph from silt and vegetation have been made in the last hundred years. The latest one, part of Delph2019 restoration works, has produced some interesting results.
Clearing rock and soil from the eastern side has revealed a tunnel, previously unknown, with a paved quay at its mouth and a complete winch sitting on an extension of the quay nearer to Worsley Road bridge.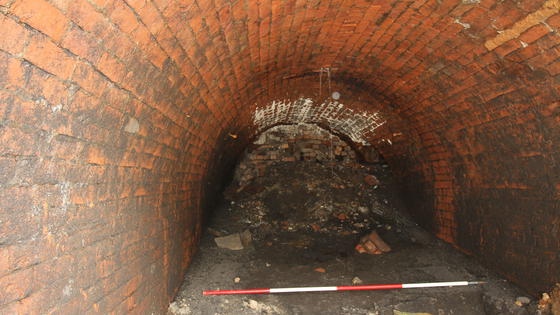 The tunnel, large enough to take a horse and cart, was probably built to transport coal from the underground mines, via the tunnel, directly into the boiler house cellars of the Corn Mill, which was situated across School Brow. The mill was converted to steam from water power, certainly before 1807, when a sketch of it was made. The purpose of the winch is not yet clear.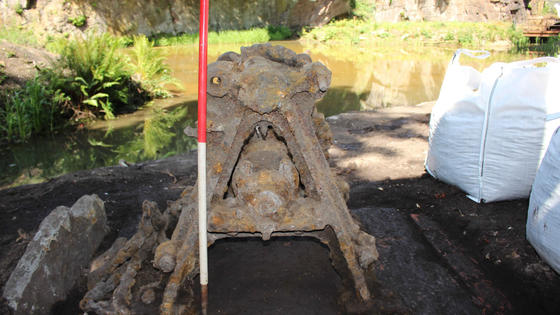 The eastern abutment of the Worsley Road bridge contains two "rooms" (see the drawing below), the northernmost of which has a bricked-up doorway in the wall facing the Delph. This doorway, approximately three metre high, would be high enough for horses and it possibly provided access to a tunnel leading to the Delph quayside or to the surface near the smithy.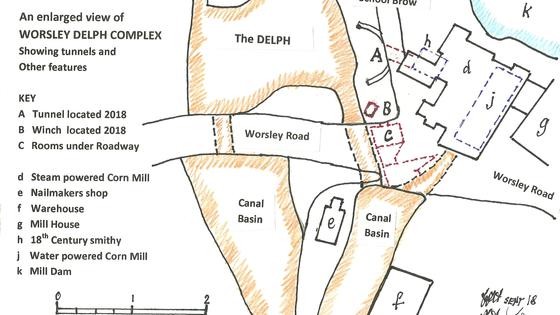 Much research remains to be done!
With thanks to historians John Aldred and Judith Atkinson. You can download a copy of John and Judith's detailed thoughts on the development of the Worsley Delph complex and their initial conclusions regarding the latest discoveries, at the link below.
If you have any thoughts you'd like to add into the mix please do get in touch via bridgewatercanal@salford.gov.uk