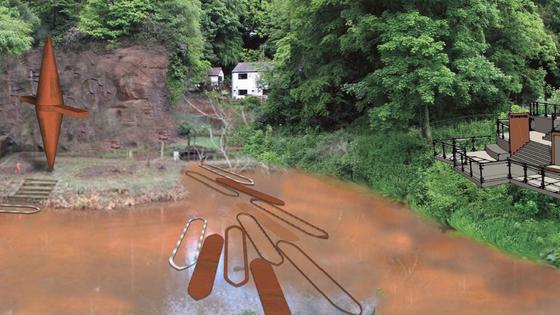 Worsley Delph is a place of huge historic significance and many of its features date back to the 18th century. Proposals have been developed to sensitively improve the appearance of the site at basin level. A new multi-level viewing platform will create enhanced public access and views across the Delph. Striking and distinctive interpretation features will help ensure that the Delph's rich history and its role in the Industrial Revolution are fully revealed to local residents and visitors. 
These exciting proposals are part of the final phase of the Heritage Lottery funded improvement works along the Bridgewater Canal in Salford. To date this has resulted in over £1.75 million being spent on physical improvements including:
• the upgrade to the towpath from Worsley to Boothstown 
• the upgrade and widening of the towpath at Barton
• improvement works to Barton Aqueduct Pocket Park and Duke's Drive
• conservation and lighting of James Brindley's 1761 stone aqueduct at Barton
• and conservation works to Worsley Green Monument and James Nasmyth's Steam Hammer (at Patricroft)
Works at the Delph are expected to start on site in summer 2018 and be complete by March 2019.
Following a series of public information days in September 2017, the plans for Worsley Delph will now be finalised and submitted for planning permission in January 2018. Further information will be available nearer the time.
You can download a copy of the display boards from the information days below. 
If you have any questions regarding the proposals please contact us at bridgewatercanal@salford.gov.uk