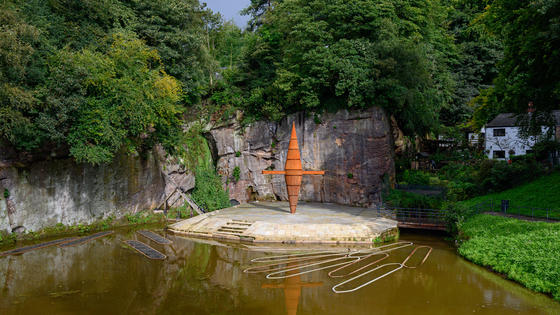 Worsley Delph is a place of huge historic significance and many of its features date back to the 18th century. Work to sensitively improve the appearance of the site at basin level is nearing completion A new multi-level viewing platform enhances public access and offers improved views across the Delph. Striking and distinctive interpretation features help to ensure that the Delph's rich history and its role in the Industrial Revolution are fully revealed to local residents and visitors. 
Work at the Delph started on site in summer 2018. Most of the improvement work is already complete, with a few minor additions still to come.  
De-silting works within the Delph basin area were completed at the end of 2018. A partially submerged boat near the western cliff face has been lifted and moved just to the south of the Delph island so that it is more visible from the viewing platform. Another mine maintenance boat was discovered buried in the silt in the south-western basin during de-silting works. Due to its fragile condition, and the fact that it is thought to date back to the 1940s, archaeology advisers agreed that it is best to leave the boat in situ buried in the silt.
Island works – the island within the basin has been re-paved and pointed in its entirety. The sluice gate has been restored and a striking interpretive crane feature to highlight the site's industrial past has been erected. Feature lighting has also been installed to showcase the site after dusk.
Worsley Road bridge - the bridge stonework has been repaired, cleaned and re-pointed, the parapets repainted and vegetation removed.
Nailmakers basin works – sandstone paving has been installed within the Nailmakers basin, along with new seating and interpretive paving. Further works were undertaken around the area leading to Alphabet Bridge, and the bridge itself has been replaced.   
New viewing platform - there are improved views of the Delph from a new multi-level viewing area accessed from School Brow. A series of specially designed features within the viewing area tell the story of Worsley Delph's unique history along with new information panels. They've also be joined by the (newly restored) winch which was discovered on site during the initial construction works last year.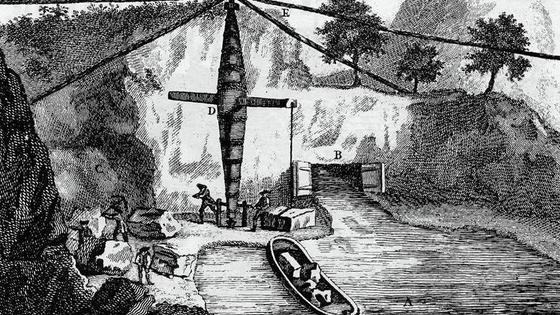 Keep up to date on the latest developments by following us on Twitter or Facebook, or sign up for our regular e-newsletter.  
These exciting improvements at Worsley Delph are part of the final phase of the National Lottery Heritage Fund supported improvement works along the Bridgewater Canal in Salford. To date this has also resulted in over £1.75 million being spent on other physical improvements including:
the upgrade to the towpath from Worsley to Boothstown 
the upgrade and widening of the towpath at Barton
distinctive new features including the Monton horse, Barton navvie and the Worsley ducks 
improvement works to Barton Aqueduct Pocket Park and Duke's Drive country park
conservation and lighting of James Brindley's 1761 stone aqueduct at Barton
new wayfinding signs and seating along the canal
and conservation works to Worsley Green Monument and James Nasmyth's Steam Hammer (at Patricroft)