The pit brow lasses were photographed and their portraits were turned into "Cartes des Vistes" which were sold and mostly purchased by middle and upper class men.
Sally's concept for this theme references the objectification of the women through the production and sale of these postcards - the pleasure that men gained from looking and the Victorian ideologies of feminism and moral supremacy. This work was also inspired by "The power to fix the gaze: Gender and class in Victorian photographs of pit‐brow women" written by Sarah Edge.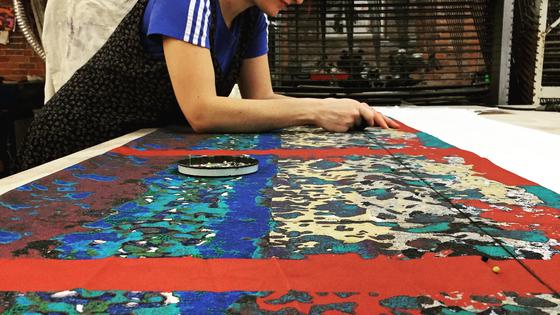 Linking to her existing collaborative work with scientists from the Wellcome Centre for Cell Matrix Research, Sally has created a print design which originates from a microscopic cellular image of a retina. She has turned this microscopic image of the eye into a large scale print to emphasise the weight of the male gaze.
Jessie Stringer-Fewtrill Jessie is a freelance seamstress and her specialisms are pattern cutting, dressmaking, garment and product design. She creates bespoke pieces on a commission basis, working with a variety of artists, makers and designers; she is interested in combining traditional textile processes with contemporary design. She is also the founder of Jessie-May Lingerie where she designs and makes by hand, one of a kind opulent underwear for women. Jessie also teaches a range of workshops and courses from beginner to advanced sewing, pattern cutting and dress making. For this commission, Jessie manufactured all of the textile products. needlewoman-jessie.format.com / @needlewomanjess